Latest News!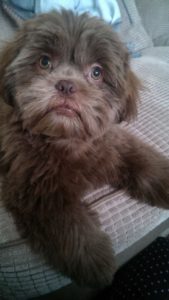 21/04/16
Apologies for not having updated sooner!  For those who follow us on FB, you will know how busy we have been!  Apart from so many fantastic new members and reaching 400 likes on FB, the biggest development has to be the Barkyard!  If you haven't seen it yet, you simply must!  It is a 16500sq ft indoor dog park in Sowerby Bridge.  Complete with café, children's play area and Doggy Day Care unit, it has a huge open floor space with agility equipment for play and socialisation for dogs!  It even has a Puppy Area and a Small Dog Area in case there a big girls and boys playing on the main floor!  We have had the absolute pleasure of working with the owner to implement protocols and assessments for all the dogs, and are even running a couple of evening classes a week – Basic Obedience, and Life Craft (or the Unsocial Hour as I like to call it!)  http://www.thebarkyard.co.uk
Plus on a totally separate note, my husband has also started his own business offering Fire Risk Assessments and Training!  I had to mention him!  If you'd like to know more, check out his page http://www.flampro.co.uk  I can promise he is honest, reliable and sooo knowledgeable! 🙂
20/12/16
We have been so, busy since last we posted!  Lots of Pack Walks, our Face of HDHUK 2017, lots of new members!  Bonnie, Jager, Diesel, Judy, Tiny, Walter, even Buddha and more… The issues have as always encompassed the full range, from anxiety, to possessive behaviour, to fear reactivity, and a simple lack of manners! Fitting it all in has been a challenge, but one we love!  Well I do! My family and friends accept it, as they know I absolutely love this 'job' – if you can call it that!  Dale, my husband, has also been helping me with some reactive cases, especially when I pulled a muscle over Christmas, and was struggling!
There are even more exciting things coming up in 2017, but they are still under wraps… for now at least!
Wishing everyone, a rather late, but sincere, Seasons Greetings and a Happy New Year!
21/11/16
Well it has certainly been some time since we provided an update, but this doesn't mean at all that we've not been busy!
We have had some great success stories! One which really stands out was a pair of yorkies that lived with 3 other dogs.  Seemingly overnight, these two girls had decided their friendship was over and they were making a beeline for each other whenever possible, where a quite nasty altercation took place.  The owners were at the end of their tether and were even contemplating rehoming one of their beloved girls.  Fortunately I was tagged in a FB past and got in to touch. We booked a session and the outcome was fantastic. Simply by going back to basics and reinstilling rules boundaries and limitations, the girls' aggression stopped as quickly as it had started.  I will never be able to say with any certainty why their relationship changed and, to be honest, it doesn't matter. The key is we have dealt with the behavioural cause and the symptoms, and what is more, the owners now feel confident in dealing with the issue if it happens again!  Great result!
In other news, I spent a fantastic day in Kent working with large breed dogs who were fear aggressive…and of course came away in one piece…and I popped over to Rotherham to help the new owners of a rescue dog who had gotten in to trouble by escaping and chasing furries…and I am currently writing this from a lovely apartment in Hebden Bridge where I have been dog sitting for a lovely couple who have travelled abroad to introduce their new baby to the rest of the family, leaving me and Spot, their older gent JRT x. His age and health have resulted in his owner to rightly not risk kennels or anything, so I've had a weekend of short walks and lots of cuddles with him.
Another great bit of news is the pack walks. Due to popular demand by the now regular walkers, the pack walks have increased to twice monthly and are now in a variety of locations!  Check out the home page or the FB page for more details.
Finally, we are delighted to see the first 'Face of HDHUK' competition open, and it is going really well with lots and lots of fantastic photo entries!  It will be exciting to see how FB followers will vote in the final, when entries close on Weds 30th Nov!  So exciting!
31/08/16
A few quieter weeks, but still plenty of canine action with a fantastic puppy pair group with the gorgeous Buddy (GSD) and Bruce (Boston Terrier).  Both did fantastically well!  Plus I've started working with Dougie, a young Vizla pup and his dedicated owners!  The big event was our first pack walk on Sat 27th Aug which although quiet, was a lovely stroll around Savile Park Moor.  I've had my hands full at home too with a Romanian street dog called Heidi.  She was brought to this country with her litter mates and then deserted!  HYPS took her on but she was so scared of people, no one could even stroke her, and a lead was a whole new challenge for her!  I made the decision to bring her home and foster her, and I am so glad I did!  In just a week, she went from being terrified and shut down, to beginning to show her age of 10mths!  Lots of patience and space but gentle challenges and confidence too!  She came on amazingly quickly, showing just how adaptable dogs are!  So much so that she was adopted yesterday!
10/08/16
We've had a busy few days, some with the help of my lovely assistant Dale (the husband!) and most of it for charity!  I popped over to Ossett to Linbee Dog Rescue to assess a Border Terrier called Daisy!  A lovely girl but severe issues when it comes to other dogs.  I also helped with some meet and greets while I was there for a lucky new owner!  Then for Helping Yorkshire Poundies, we have fostered the gorgeous, but huge Fraser – Dog De Bordeaux X to give him time to heal from a neutering operation, before helping to secure him a longer term foster home, and settling him in to his new home in Leeds. I have also run the second Young Walkers' Day at the kennels in Brinsworth where young people aged 11-18 come and spend time with the rescue dogs. Learning about them and gaining experience. Back to training tomorrow with a lovely young Boston Terrier!  Check out the gallery for photos. Phew!  No wonder I am a little achy today!  Today is a quiet paperwork day though and tomorrow is back to training with a lovely young Boston Terrier who I am very much looking forward to meeting! 🙂